Vultr is one of the best high-performance SSD Cloud providers in the world. It provides VPS hosting plans start from only $5/month with 768MB RAM. Besides, to help customers try its amazing services, Vultr always gives some gift codes which help to grab up to $103 for free.
Almost Vultr coupons are valid for new customers only. But existing customers, don't feel bad, Vultr also has incentives for you. Let's check out.
Vultr Coupon – Vultr Gift Codes February 2017
For one who has never met Vultr before, make a new account here and credit your account right away, that amount will be doubled, up to $100.
Click button below to go to the promo page:
***This special free credit should be use within 12 months after being added. Limited time offer only
2. Get $50 free credit for the first time sign up
Update Feb.18: This promotion was over.
All you have to do is registering a new account via the promo link, add Credit Card information (PayPal not accepted) to verify and Vultr will automatically add $50 to your credit.

There's no need to add any coupon code, following the link in the button below:
***The amount of money should be used within 60 days.
3. Get $20 for free with new account
Update Feb.18: This promotion was over.
Another promotion for new customers after signing up. With this one, you can only get $20 in credit for free.

After sign up for a new account, go to the Billing page, add the gift code below to get your $20:
***Expire 30 days.
Match up to $100, 50$ or $20 free credit, you just can take one of them. Each has its own using conditions, but the same point is to help you save money and try Vultr easier. Let's find the best way for you!
Go to Vultr's Twitter Promotion Page, click to verify your Twitter, follow @Vultr, tweet about Vultr and get $3 more free credit.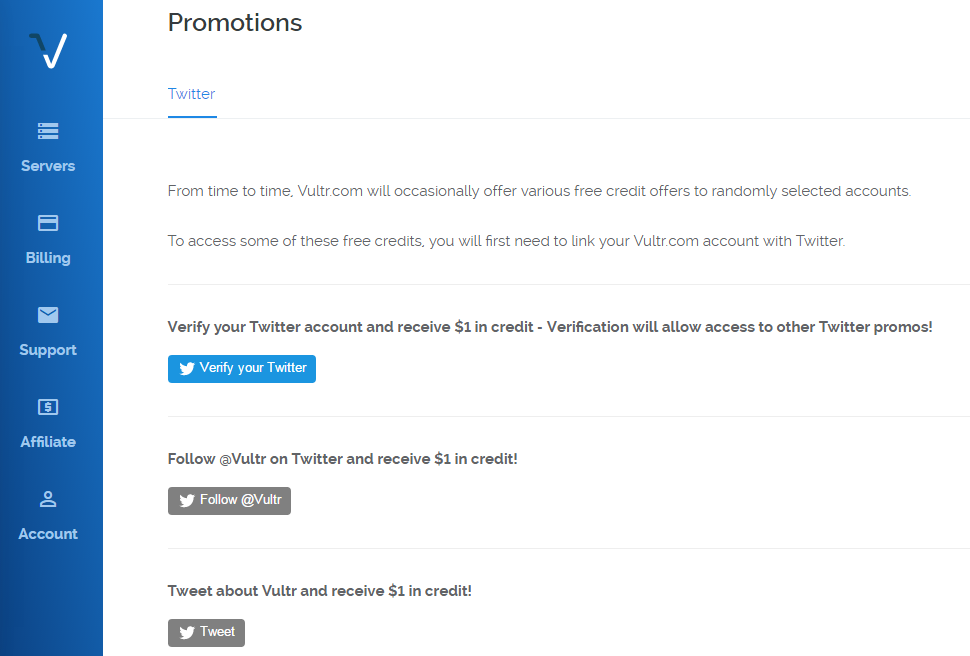 This 3 dollars free credit is the different one which can be used in conjunction with one of the 3 other promotions above. In total, you can get up to $103 for free to try Vultr.
5. Special discount for existing customers
Vultr is giving a special 20% discount for its existing customers on all Vultr's Compute Plans. Please log into your account via this link then click Deloy button to receive your promotion.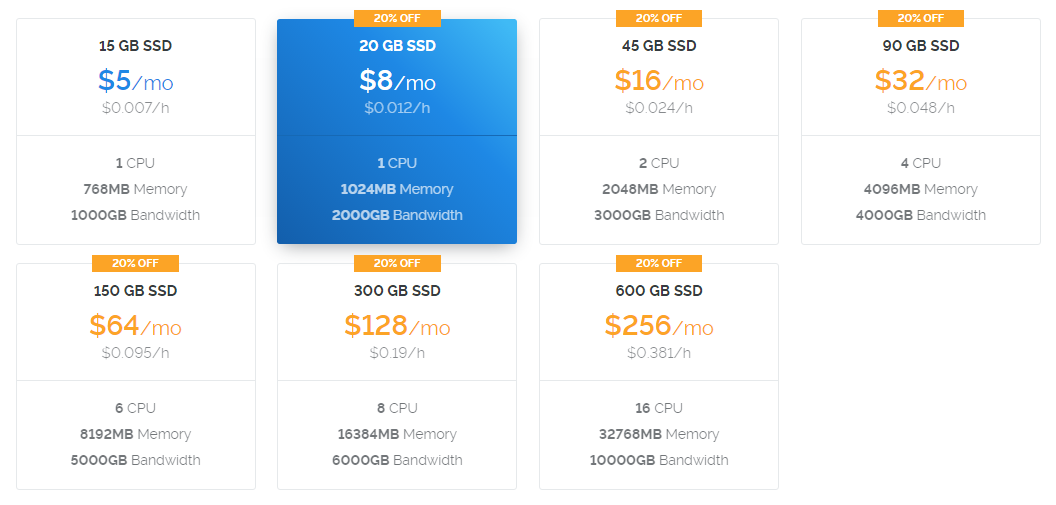 ***Offer is valid for all Vultr's Compute Plans except the $5/mo plan.
Besides, the provider is also offering a free trial program of 50GB Block Storage for all of its customers, applied for New York, New Jersey location only.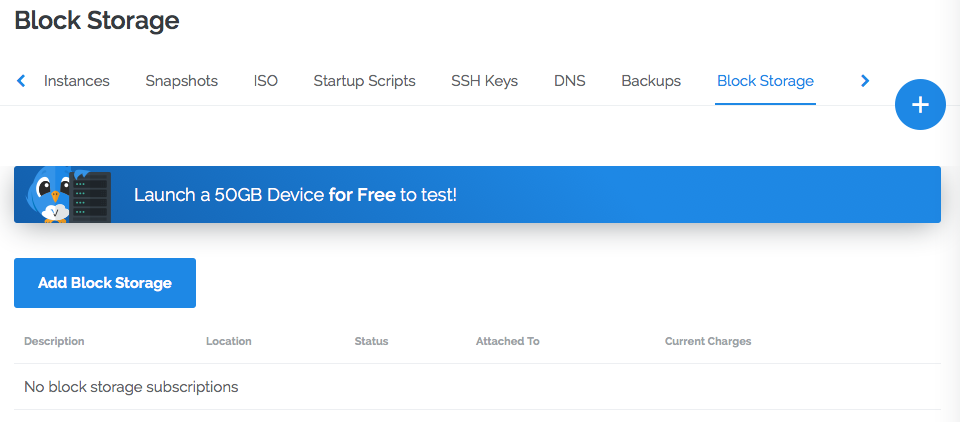 If you need more additional storage, try this promotion.
>> Click here to see more detail.
Vultr VPS service made me satisfied for over 12 months, an amazing performance with 3,3 GHz Intel CPUs and solid-state drive (SSD). For me, VPS service price here is such a cheap price for the 100% SSD Hardware with 15 Optimized locations worldwide package.
If I were you, I won't hesitate to join and experience one of the world best cloud services.
Hope you all successfully!