A 30% OFF coupon has just been released today at Domain.com and the other sister companies in EIG: Netfirms, Dotster, MyDomain.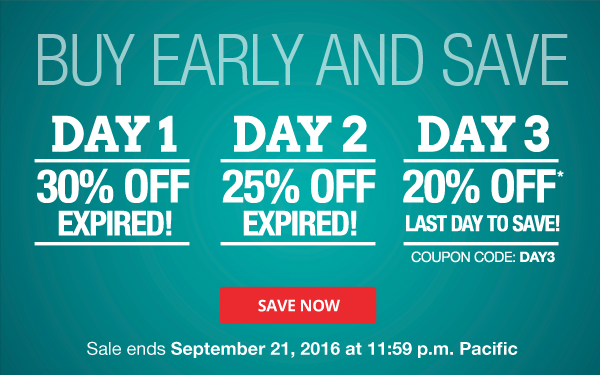 When shopping at Domain.com, Netfirms, Dotster or MyDomain, remember to use coupon DAY1 to save 30% off on your entire order. The coupon can be used for both register new domains and transfer to one of these 4 providers above. This is the lowest transfer price – just from $5.8/year.
DAY1 and DAY2 have expired but in the next 24 hour (Sept 21, 2016), you can use coupon DAY3 instead to save 20% OFF.
There will be no limit put on the number of domains and the length of the domain life.
Choose your provider & grab domains now
***DAY3 will expire on September 21th, 2016, at 11:59 pm Pacific. Paypal and Visa/Credit card accepted.
There will be 3 other coupons announced on 3 other days – September 19, 20 & 21. I will update new coupon in this post as soon as it comes.
Have a nice day!