From now through Monday, March 20th, during the Holi week, GoDaddy is offering up to 70% off on many different kinds of its services.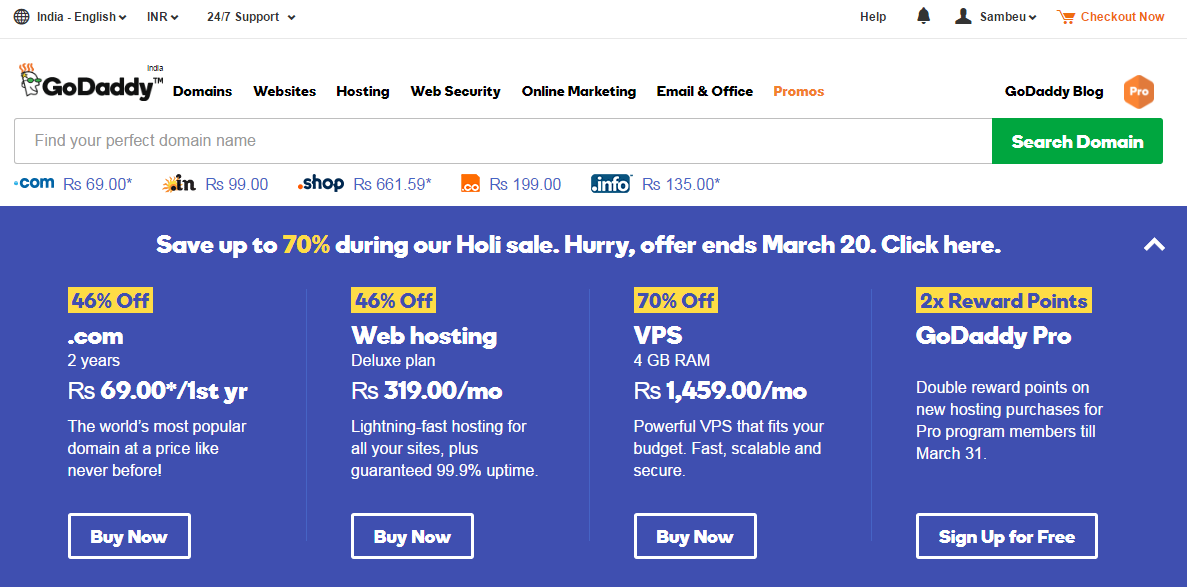 At the moment, visit GoDaddy and you will have chance to save a huge amount of money (from 46% to 70% OFF) with:
.COM domain at just Rs 69 ~ $1.04 for the first year when registering 2+ years
46% OFF on Deluxe Web Hosting Plan, starts at Rs 319/mo ~ $4.79/mon
70% OFF on Deluxe VPS Hosting Plans, costs at Rs 1,459/mo ~ $21.91/mo
2x Reward Points on new hosting purchases for Pro program member till March 31st
Press button below to go to promo page
Save Up to 70% OFF
Plus $0.18 ICANN fee each domain per year.
PayPal and Credit Card are both accepted.
While visiting GoDaddy, if you do not see the promotion, please change country into India – English.
>> Click here to see more attractive deals from GoDaddy: 35% off on new registrations, 99 cents domain, hosting just $1.00/month + free domain.
Hope you enjoy and Happy Holi!