GoDaddy starts selling a new domain extension – .VIP domain with only $9.99/year. This special price is reduced from $39.99 – save you $30/domain.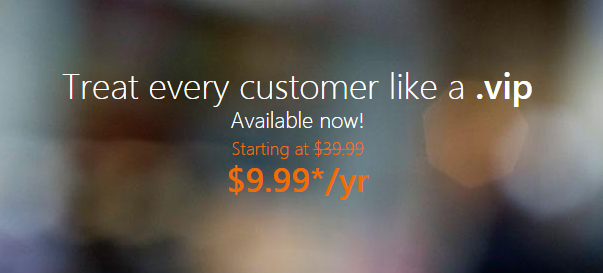 GoDaddy can help you save up to $30 with this new domain extension – starts for only $9.99 per .VIP domain.
Go to GoDaddy and get your VIP address now
Get .VIP domain just $9.99/yr
Valid for the 1st year registration only
Plus ICANN fee of $0.18 per year.
Unlimited number of .VIP domains per customer
What do you know about .VIP?
.VIP is a new domain extension owning by Minds + Machines Group. The domain extension was just launched yesterday May 17th, 2016, at 16:00 UTC. Minds + Machines' CEO –  Toby Hall said that .VIP's main target is the China market. But soon, .VIP will be popular in many other markets.
.VIP website address is short, easy to remember and can say much more than you think. In my opinion, a .VIP website address can be a perfect name to promote your brand. The domain name represents for your exclusive, high-quality products and services. That also means all your customers, each is a Very Important Person.
Hope your business go well!
>> Click for more GoDaddy's promotions.
Update: Sale ended. .VIP domain price is now at $19.99/year.