Heyo STUDENTS, Namecheap is now giving a special program to all of you – a .ME domain name for Free.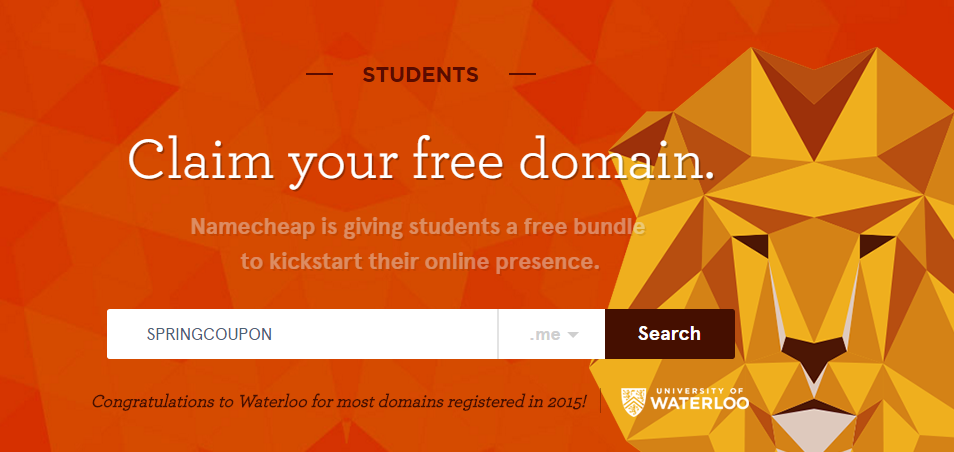 The Student Bundle is used for encouraging students to start their own online website. So a .ME domain will be given for free. Besides, other domain extensions also have discount price, namely:
.XYZ domain at 44 cents only.
.CLUB, .WEBSITE, .CO cost less than a dollar – 99 cents.
.LINK is about $3/year.
.COM, .DESIGN, .ROCK start for $5/year.
Click the button below to get your own domain name
Get a .ME Domain Name for Free with Namecheap
*** There is a limit of 1 registration per TLD per student.
The offer also includes:
Free Private email account
Free GitHub Pages 1­ click setup.
*** Your Bundle free will last in 1 year. After that, the Standard Bundle (.ME, GitHub Pages and WhoisGuard) is $18/year.
Currently Namecheap is only offering free .ME domains and a discounted rate on other gTLDs for selected 
universities in the US, UK, Canada and Australia
. To find out if your university is eligible, please check in the FAQ section: 
https://www.nc.me/faq
Do not miss this opportunity and start your own online business! Goodluck!