A one-day sale has just released by Domain.com, Netfirms, Dotster and MyDomain – Save 50% Off on new .COM and .NET domain registration.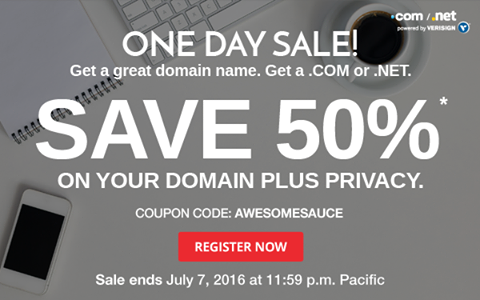 In the next 24 hours, you'll be reduced 50% off on your total bill when purchasing .COM and .NET domains (new registration and transfer). Register up to 5 years, you still get the special price – just from $5/year. There's NO LIMIT on the number of purchases per customer!
Click button below to get the code and grab your domains
AWESOMESAUCE
– Save 50% off when registering .COM/.NET domains
or you may want to go register at Netfirms, Dotster or Mydomain.
Credit Card and Paypal are both accepted.
Sale ends at 11:59 pm. Pacific, July 7th, 2016.
Hurry up!