Besides .COM and .NET domain sale – $1.39 at EIG companies, a flash sale on .BIZ domain name is being run by LCN.com.
.BIZ is a short and meaningful extension, perfectly made for your business website besides .COM and .NET domain. Because it's not as popular as these 2 domains, you will have a bigger chance to get your favorite name.
From now until midnight, while registering .BIZ domain at LCN.com, using the code below, the price will be reduced over 95% – down to $0.5/year only.
Press button below to get the code
Register .BIZ domain at 50 cents
***Credit Card accepted.
I checked and it still works now.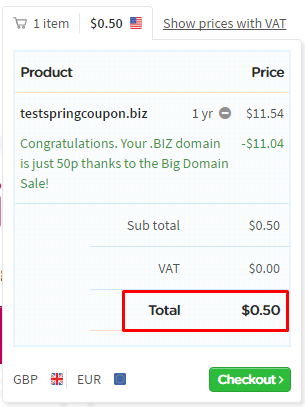 Offer is applied for the first year registration of .BIZ and limit one domain per customer. Renew will be at $14.43/year. But there are 10 cheap domains so you should register right now if you want to get the deal.
Note: Offer only available to residents of the UK and Ireland.
Good luck to you!