On Black Friday, BigRock had a big sale on domain names and today, another big one for hosting.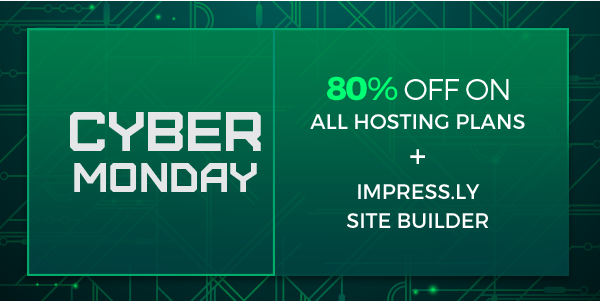 While registering using the coupon code below, any of hosting plans and website builders here will be discounted up to 80% on Cyber Monday – November 28th. Include Shared Hosting, Reseller Hosting, VPS Hosting, Cloud for Business, Dedicated Server, Impress.ly, SiteBuilders, and Code Guard.
Save up to 80% off on any 3+ years purchase
Save up to 60% off on any purchase under 3 years
Update: It's running now. Not every package has the same discount rate. Choose your best and save money. Good luck!
Press button below to get the code
Save 80% off on all hosting plans and website builder
***This is an exclusive one-time use offer, valid only for new customers.
Not sure what's the exact time the sale will start but it will be run today. I will notify you whenever it's available.
Have a nice week, buddies!
Many other HOT Black Friday & Cyber Monday deals are running now, please check out all of them in this post, please. And just wanna remind you about Namecheap's Cyber Monday sale – it will start at 12:00 am EST today, Nov.28th – reduce 98% on domains and hosting, remember to keep an eye on it.