AlpNames has just decided to reduce its .COM domain price – down to $5.99/year only.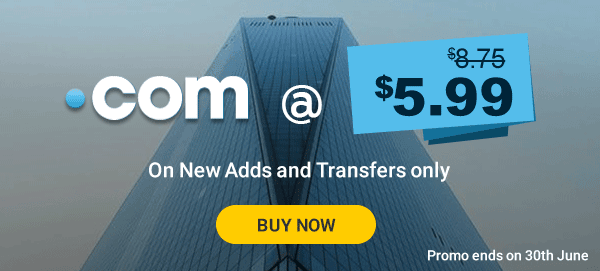 This rate is just the same with Namesilo but no FREE Whois Privacy. The thing makes this offer becomes one of the hottest sale is that it can be used to transfer domain also.
Yes, at the moment you can register and transfer .COM domains to AlpNames at just $5.99/year each. There is no limit on the number of domain you can purchase, so, feel free with the amount.
$5.99 is the best price for .COM domain transfer in the market now. Let's take advantage of this chance
Press button below to go and get your domains
Register/Transfer unlimited .COM domains @ just $5.99 each
***No need to add any code.
Promo price is for the first year of new domain registrations only.
PayPal and Credit Card are both accepted.
AlpNames will not you give you free whois privacy, but the price for this service is at just $0.99/year. Moreover, the renewal price is quite good – just $8.75/year. All the services here smoothly run also: quick payment process, helpful support team, easily transfer in/out… This is such a good address to stay a long time with.
Hope you enjoy!
Update: The offer has just ended. .COM domain now stays at $8.75 for new registration/transfer/renewal.